Churches united to serve the schools.
We have the opportunity to partner with Lebanon Giving Tree this giving season.
This is a great tangible way to spread the gospel to the families in our community.
Pick up your tag in the lobby and bring back unwrapped gift with tag on it by December eleventh.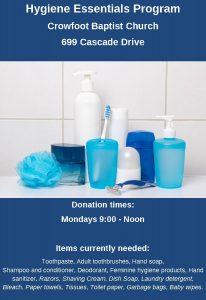 We want to continue to serve our community. Currently we are needing help to continue The Hygiene Essentials Program. If you feel led to give, donations can be dropped off at LFC on Sundays or during office hours. They can also be dropped off at Crowfoot Baptist Church on Mondays from 9:00 am to Noon.
To Volunteer:
Visit School District Website's Volunteer link   

(www.lebanon.k12.or.us/resourses/volunteer)

Click on and fill out "Online Background Check" form (where you can indicate how you want to help).